La ricerca del GruppoTPP
in collaborazione con la Kazan Medical University (Kazan, Russia), merita la copertina del Volume 133, numero 6, del prestigioso giornale internazionale Journal of Applied Polymer Science. Complimenti agli autori Annalisa Dalmoro, Alexander Sitenkov, Gaetano Lamberti, Anna Angela Barba e Rouslan I. Moustafine.
Cover Image, Volume 133, Issue 6, DOI: 10.1002/app.43093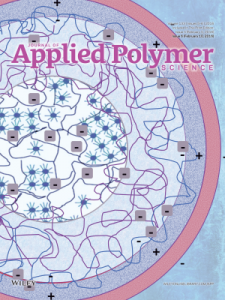 On page 1480, Annalisa Dalmoro, Alexander Y. Sitenkov, Gaetano Lamberti, Anna Angela Barba, and Rouslan I. Moustafine discuss an enteric shell-core microparticle encapsulating indomethacin produced by a solvent-free method based on ultrasonic atomization and a two-stage polyelectrolyte complexation. In particular, a water solution of the anionic biopolymer alginate containing indomethacin was sprayed first in fine droplets complexed with the cationic (meth)acrylate copolymer Eudragit® E 100, and then with the anionic copolymer Eudragit® L30D-55. The first complexation stage was applied to achieve a high drug encapsulation efficiency; the second one to assure gastroresistance. (DOI: 10.1002/app.42976).